I tripped over to Japan for the third time in February of this year; yes I know this is a few months late. Besides just needing a holiday in general, I wanted to check out a new part of Japan, the island of Hokkaido, as well as see some new parts of Tokyo and get in some more Japanese practice.

The beautiful weather out of Cairns
This trip was a 3 week trip that Shannon and I took to coincide with her uni break. We spent a couple of days in Osaka after we landed, and our trip would take us through Tokyo, up to Sapporo for the Snow Festival, and back down through Sendai and Tokyo.
Osaka
We flew into Osaka and spent two nights at an airbnb in Dotonbori before moving on to Tokyo. We had some difficulties checking in, being given the wrong instructions at first and then the wrong key, and had to drag our luggage back and forth through the Osaka downtown for an hour. Eventually we got checked in and settled by 11pm. Even at that late hour,1 going out and seeing the familiar Dotonbori sign (pictured below), smelling the aroma of yakitori or okonomiyaki wafting out restaurant windows, and the crowds of hungry people milling about the streets, was enough to give me a hit of energy, which lasted just long enough to grab a few beers and a bowl of ramen before passing out.
In the day we had spare, we went to see the aquarium, Osaka Aquarium Kaiyukan. It's probably the best aquarium I've ever been to, with a huge array of different sea creatures and a meticulously designed venue. The aquarium takes the better part of a day to get through, and is carefully crafted so that the tunnels loop around and back in on themselves, so you'll walk through a section with creatures from say, the deep sea, then come back out to find yourself in front of earlier tank from a different side and exposed to a completely different view. The pictures below don't do it justice, so check it out if you're ever in Osaka.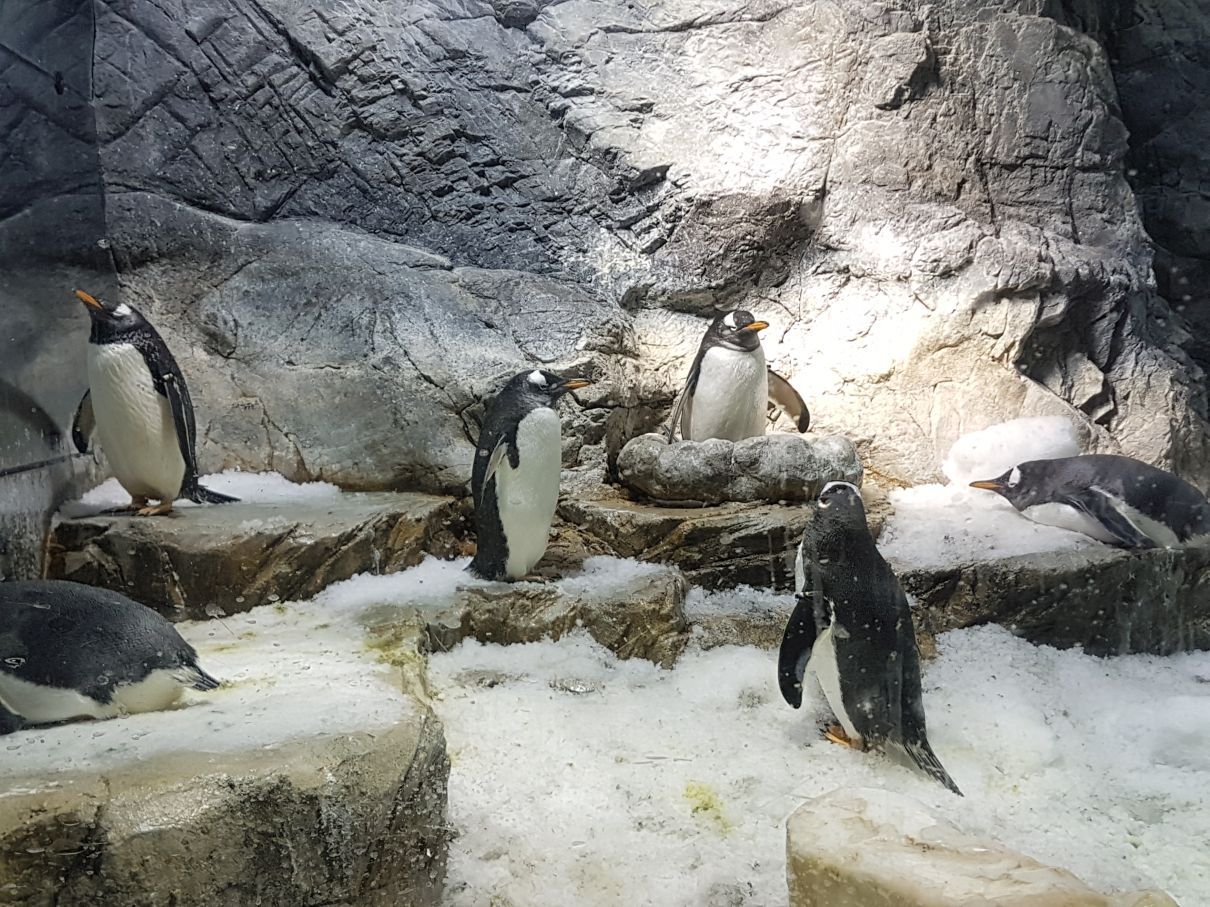 Harajuku
We rode the Shinkansen (bullet train) up to Tokyo next, and spent about a week in an airbnb in Omotesando, just off Harajuku and Ginza. We actually didn't do that much this week - I think it was because it was my first holiday in a year of full time work and I needed a week to chill out rather than run around sightseeing. I settled into a routine for the week, coffee and Japanese study at the local Starbucks each morning, delicious Japanese food and walks around the area each afternoon.
So instead of Tokyo photos, here's some of the ramen and other food I ate on the trip. From left to right you've got:
Ichiran Tonkatsu
Ringer Hut Champon (Like ramen but with a lot more vegetables and less noodles)
Sapporo Butter Corn Shio Ramen
Sapporo Butter Corn Shoyu Ramen
Ichiran again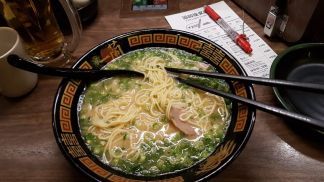 On the non-ramen side we have:
Beef yakiniku from Shinjuku
A crab claw from Dotonbori street stalls
KushiKatsu - deep fried things on sticks
A 30 dollar 'white strawberry' which was probably the best strawberry I've ever eaten but still not worth that much.
I dunno, have a guess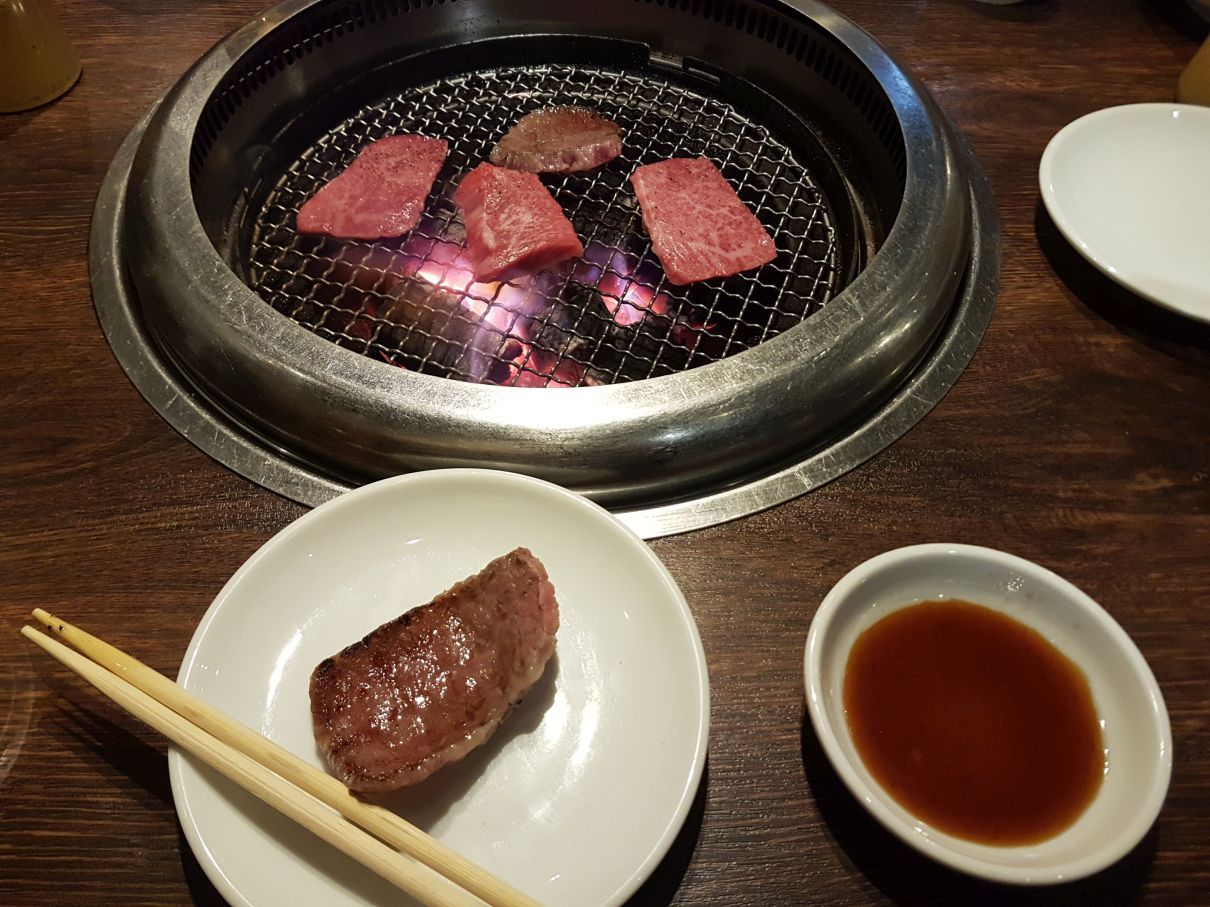 Sapporo
After Tokyo we took a couple of trains to get up to Sapporo. I'd never been to the northernmost island, Hokkaido, before this, and wanted to check it out during the middle of winter when the 'Snow Festival' was on. Yuki Matsuri (Snow Festival) is a festival that happens for two weeks in February and fills the middle of the city with huge ice sculptures, winter food stalls, and various music and other shows.
From left to right here, we have some goddamn tasty chocolate, spotted at a stall at the snow festival, some snaps from the Sapporo beer museum, and around Sapporo the city. We unfortunately wasted a day heading out to a 'historical village' that was closed when we got there due to it being a public holiday. Google maps you liar!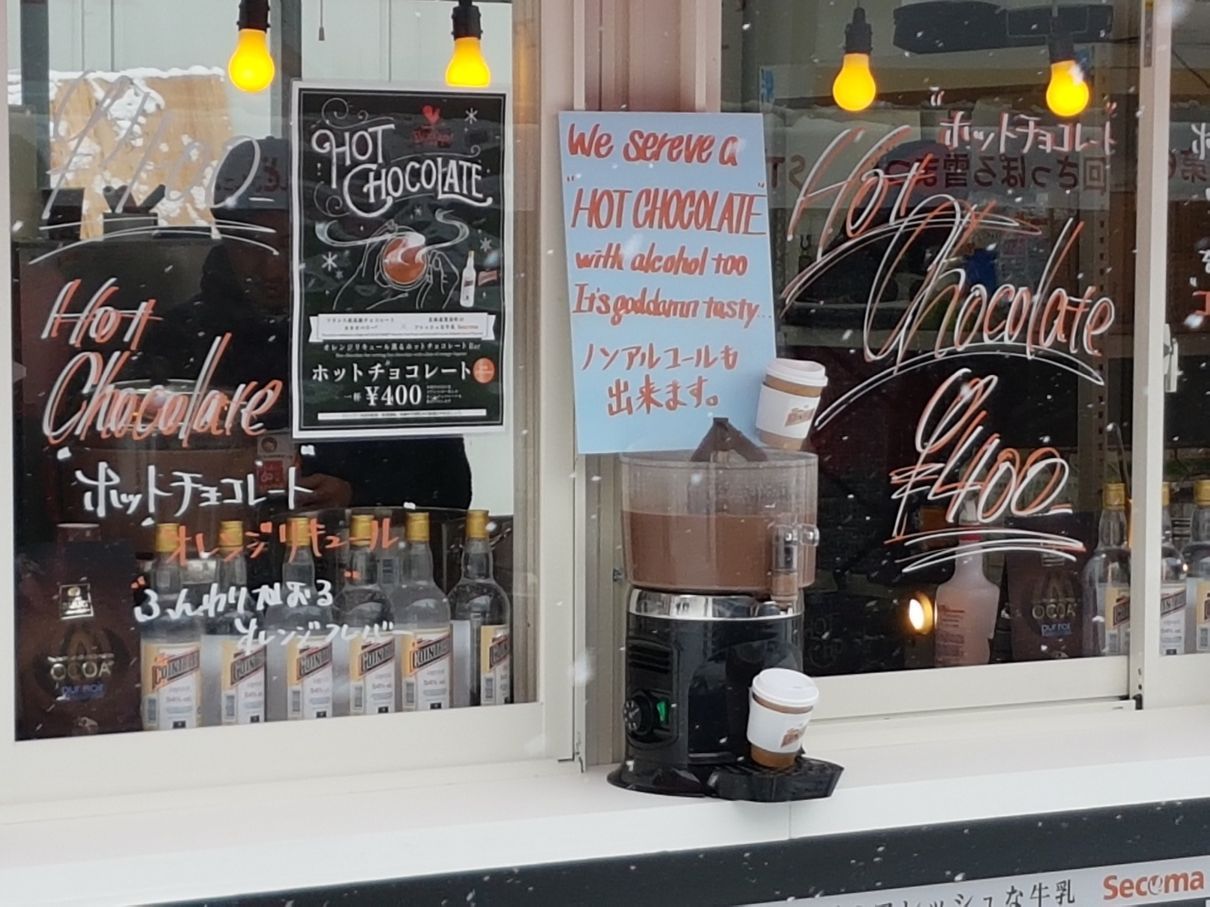 The snow festival itself - Yuki Matsuri: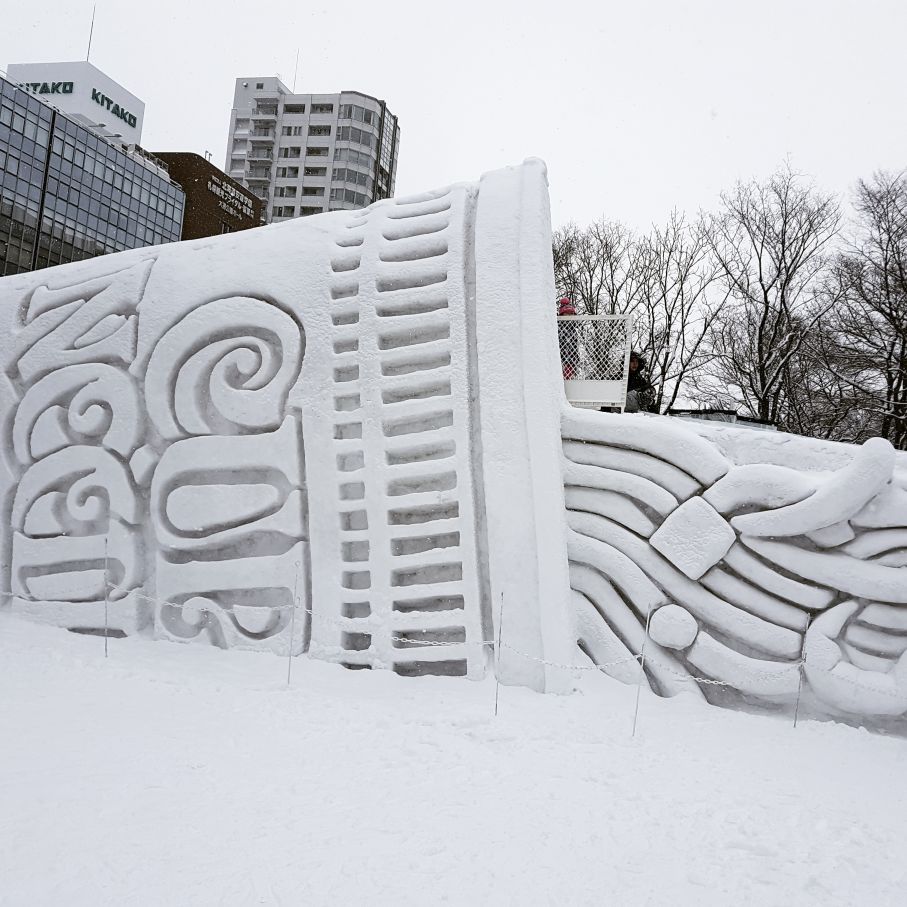 Hakodate and Sendai
After Sapporo we made our way back down to Tokyo, stopping overnight in Hakodate in a Ryokan/Onsen, then in Sendai for two nights because a) I'd never been there and b) Shannon wanted to see the Zao Fox Village. The vibe at the Ryokan was super chilled, most of it spent either soaking in the onsen or sitting, reading, and looking out at the snowy ocean views from the seats you can see below.
I enjoyed their fruits too, which seemed to be more cakes than fruit - lost in translation?
There's a fun story about the Japanese Buddhist monks and how the Japanese language affected their diet. In Japanese, you count with different 'counter' suffixes. There's a suffix 'mai' for flat things, 'pon' for long round things, 'ko' for small miscellaneous objects and 'hiki' for small animals. Why is this important? Well, a long time ago when Buddhism was first imported from China, the Japanese monks were having a real problem sticking to the vegetarian diet that was required by strict buddhism. This is because in the mountains of Japan there really isn't that much in the way of vegetables and it's extremely hard to get enough sustenance without any form of meat. However, as it happened, through some quirk of the language, rabbits weren't counted with the 'hiki' suffix for small animals, but with the 'ko' suffix for small objects. So, it was decided that they would define vegetarianism by the suffixes used for animals, and thus rabbits weren't actually animals and could be eaten by vegetarians.
Some more views of Hakodate:
Then onto Sendai for two nights, where, as I mentioned above, we spent the day trekking out to see a village of foxes. Other than that I had a few nice encounters with people who I could practice my Japanese with. I met an old guy in a Starbucks who was watching English language news on his iPad and was very proud of the fact he knew the word octogenarian. Through my broken Japanese and his broken English I found out he went there every day and practices his English in order to keep his mind young. My Japanese wasn't quite good enough on this trip to have a smooth conversation, but that would change by the next time I went to Japan in October of 2018.
Shinjuku
We went back to Tokyo after Sendai and stayed in a Shinjuku airbnb for the last 5 days. We spent this week fairly chilled as well, rather than doing 'tourist attractions,' we spent more time hanging out in bars and trying to talk to locals, shopping, and enjoying our last few days eating delicious Japanese food.
Pictured below: A chance encounter with the folks from Dragonball Z, and some of the chalk art featured at Starbucks in Tokyo during the Valentines day period. An interesting thing about Japan is the way it splits the year into seasons, with a different seasonal celebration always happening2. It was Valentines season when I was there in February, soon followed by Cherry Blossom season, and right now in October as I write this, it's Halloween season.
The two tourist things we did do this week during this week were two museums. The first was the 'Tokyo National Museum,' which was huge and had 4 or 5 buildings full of ancient treasures and artifacts. A lot of it we weren't allowed to take photos of and I recommend going yourself if you're interested in art and history, it's one of the largest collections in the world. I did get photos of some of the maps and screen paintings, below, but you can't do them justice in a photo. The second was much smaller, an exhibition of items from Tokyo University called 'Intermediatheque' - free, so good for anyone on a budget. Below you can see replicas of a university lecture hall from over a hundred years ago, and a ship from a similarly long time ago. There were also a lot of animal skeletons, biology/geology collections, busts and biologies of influential professors, all stuff from the university.
And then back to Sydney with a haul of Japanese treats for my coworkers and friends.
For anyone else going to Japan, these are what you want to bring back - Shiroi Koibito biscuits3 and Jaga Pokkuru 'potato straws', with a smattering of weird Kit-Kat flavours for good measure.
I'm actually finishing off this blog post from Japan 6 months later. I realized on the plane over that I never got around to polishing the post from the Hokkaido trip. So coming up in the next few posts, catch-up time - my third business trip to the states in June, and the next trip to Japan in October (now).
---
1: Yeah, OK, 11 isn't that late, but I'm usually in bed by then.
2: Represented (capitalized on?) at Starbucks with some limited time drinks - for Halloween now they have the 'Halloween Princess' and 'Halloween Witch' shakes, both with an apple base, the Witch one with dark chocolate and the Princess one with white mocha sauce.
3: Which translates to 'White lovers' directly. Kind of a strange name but they are delicious biscuits.